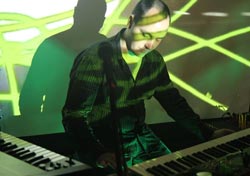 Welcome to my site! This website shows a variety of my work and interests. Please take a look at my resume and some examples of my work.
I am currently employed as a Website Content Producer for WFN: World Fishing Network. I am an avid angler who is very passionate about fishing, so this job suits me well. I have been employed in the fishing industry since 2003 and have been involved with various aspects of television production and website development.
One of my other interests is music production. I have a small collection of synthesizers and compose music. Have a listen and let me know what you think. As an extension of this hobby, I have started making my own synthesizers and other electronics to use in music production.
One of my most recent endeavours has been the launch of Jovian Synth. This company designs and develops electronics instruments and audio equipment. The company was started along with Scott Gravenhorst as a means for us to fulfill requests from musicians who want to purchase products that we previously only made as a hobby.
Feel free to contact me if you have any questions.